The UK SACD  4.1
plays in Multi Channel  and on any CD
Hybrid
Recorded March 1973
Billy Cobham plays Drums on his own track
Ron Carter plays Acoustic & Electric Bass.
The Late & Great Idris Muhammad (Leo Morris)  plays Drums on tracks 1-6.
The Late & Great  Eric Gale Plays Guitar on tracks 2-7
[QUADRAPHONIC
1: AUBREY (Gates)
2: MASTERPIECE (Whitfield)
3: TROUBLE MAN (Gaye)
4: YOU ARE THE SUNSHINE OF MY LIFE (Wonder)
5: DON'T EXPLAIN (Herzog; Holiday)
6: EASY LIVING (Robin; Rainger) – AIN'T NOBODY'S BUSINESS IF I DO (Robbins; Grainger)
7: TAURIAN MATADOR (Cobham)
Arranger/conductor: Bob James
Remastered by Michael J. Dutton
Multi-Channel/Stereo
All tracks available in stereo and multi-channel
SA-CD
This Hybrid CD can be played on any standard CD player]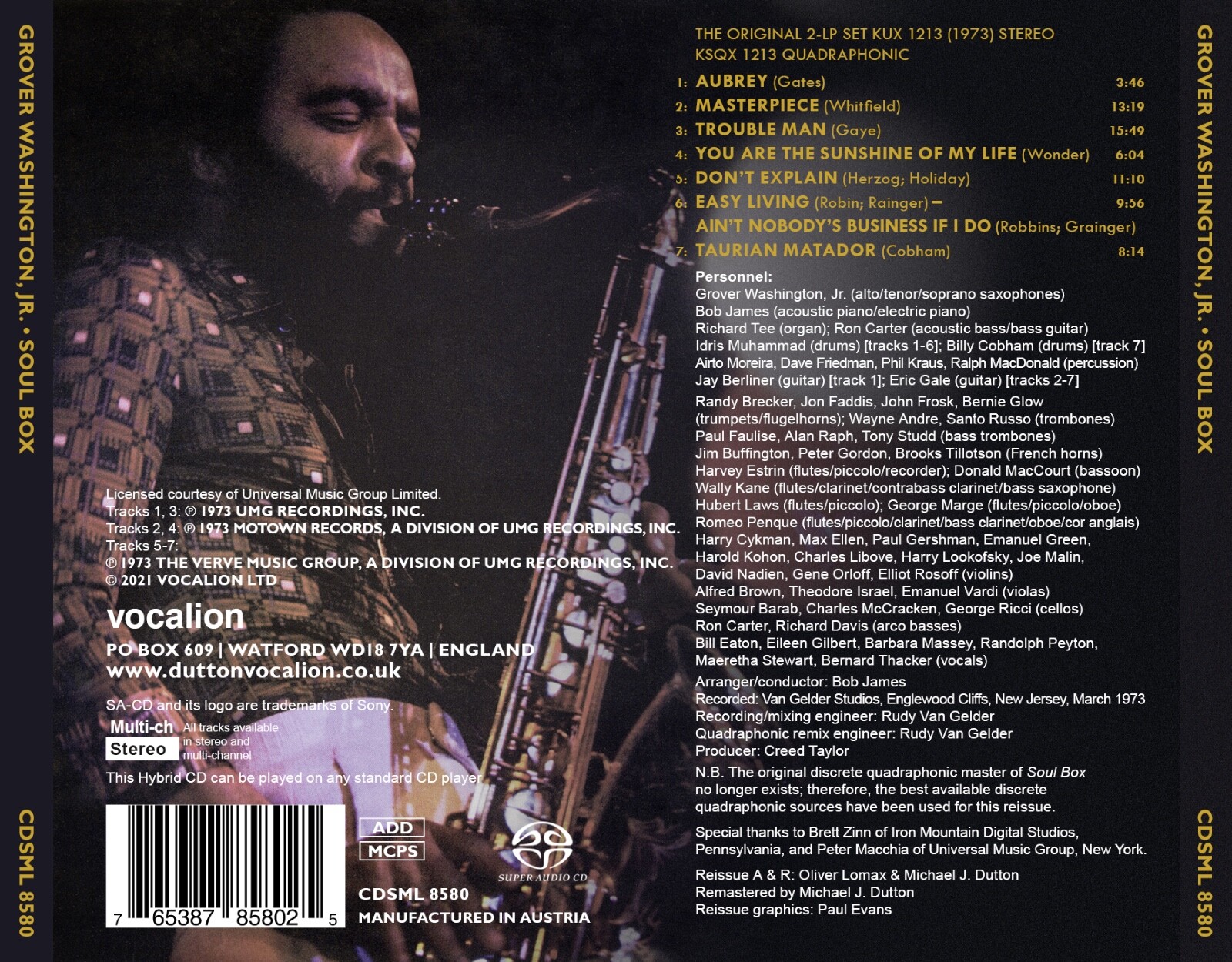 Its made in AUSTRIA
in  the old Sony SACD factory.
On Track 7.
Billy Cobham's Drums are on the Front 2 speakers
and his Floor tom on a Back Speaker.

Rudy Van Gelder did the Quadraphonic Mix in 1973
Michael J. Hutton did the Remastering 2021.
___________________________________________________________________________________
Outtasight
Colin