https://twitter.com/barneyhurley1/status/1367078235230662658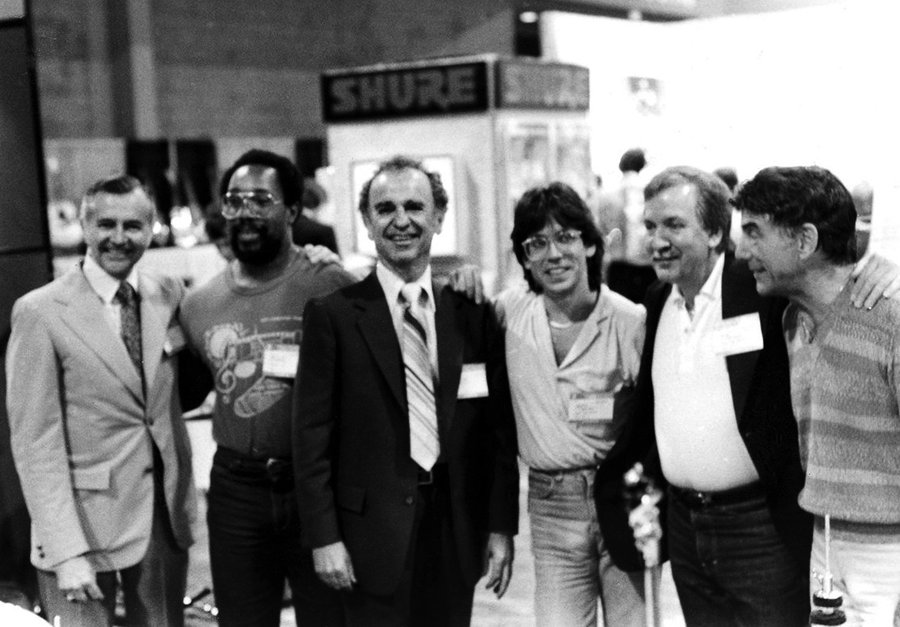 [Vic Firth, Billy Cobham, Remo Belli, Jeff Porcaro, Joe Porcaro and Louie Bellson
at The NAMM Show in Anaheim, California, 1987]
Taken from a Barney Hurley Tweet.
The Late & Great Jeff Porcaro
Great Drumming
is on Lee Ritenour's track  "Space Glide"  1977
Composed by the Rhythm Guitarist that starts the track  Mitch Holder.
https://www.youtube.com/watch?v=nwJT1xo-Ufc
First Rhythm Guitar is Mitch Holder, 2nd Rhythm Guitar Ray Parker Jr.
Lead Guitar & 360 Polyphonic Guitar Synthesizer - Lee Ritenour,
Drums - Joe Porcaro ,
Ernie Watts - Tenor Sax ,
Charles Meeks - Electric Bass,
David Foster - Electric Piano,
Victor Feldman - Congas,
Steve Foreman - Percussion,
Harvey Mason - Percussion.

Top Production by Skip Drinkwater .
CD : Captain Fingers  Sony/Epic 1977
_________________________________________
Outtasight
Colin.